The Director of the Center for Climate Change, Climate Justice, and Health Shares her Wisdom
Dr. Patrice K. Nicholas completed a Bachelor of Science degree in Nursing at Fitchburg State University, a Master of Science in Nursing degree and Doctor of Nursing Science degree at Boston University. From 1996-1999, she was a postdoctoral fellow at the Harvard T. H. Chan School of Public Health focusing her research on symptom
management in HIV disease and global health and completing a Master of Public Health degree in International Health. In May 2010, Dr. Nicholas received a Doctor of Humane Letters degree Honoris Causa from her alma mater, Fitchburg State University. In 2007, she was selected as a Fulbright Senior Scholar at the University of KwaZulu-Natal focusing on adherence to HIV and TB medications. In 2008, she was inducted as a fellow of the American Academy of Nursing.  Dr. Nicholas is Distinguished Teaching Professor in the Doctor of Nursing Practice Program and was actively involved in curriculum redesign of the DNP program. She has authored or co-authored over 100 peer-reviewed manuscripts, two texts, and many invited and peer-reviewed presentations including several manuscripts on climate change, climate justice and climate-related health consequences. Dr. Nicholas serves as director of the MGH Institute of Health Profession's newly launched Center for Climate Change, Climate Justice, and Health.
Patrice K. Nicholas, DNSc, DHL (Hon), MPH, MS, RN, NP-C, FAAN
About your host, Beth Schenk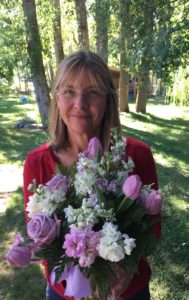 Elizabeth Schenk, PhD, MHI, RN-BC, FAAN is Providence-WSU Nurse Scientist and Sustainability Coordinator at Providence St. Patrick Hospital in Missoula, Montana. In addition, she is assistant research professor in Nursing at Washington State University in Spokane. Dr. Schenk co-leads nursing research efforts at St. Pat's, and also across Providence St. Joseph Health, working with nursing leaders at 50 hospitals.
Dr. Schenk leads efforts for environmental stewardship at St. Patrick, and has worked with hospitals across the health system to reduce environmental impacts for the past 25 years.   In her academic work, she developed the "Nurses Environmental Awareness Tool" which has been used in multiple states and several countries to assess awareness of the environmental impacts of hospital-based healthcare. She led the development of teh CHANT: Climate, Health and Nursing Tool. She was inducted into the American Academy of Nursing as a Fellow in 2018. Dr. Schenk serves on the national board of the Alliance of Nurses for Healthy Environments, and several local boards.